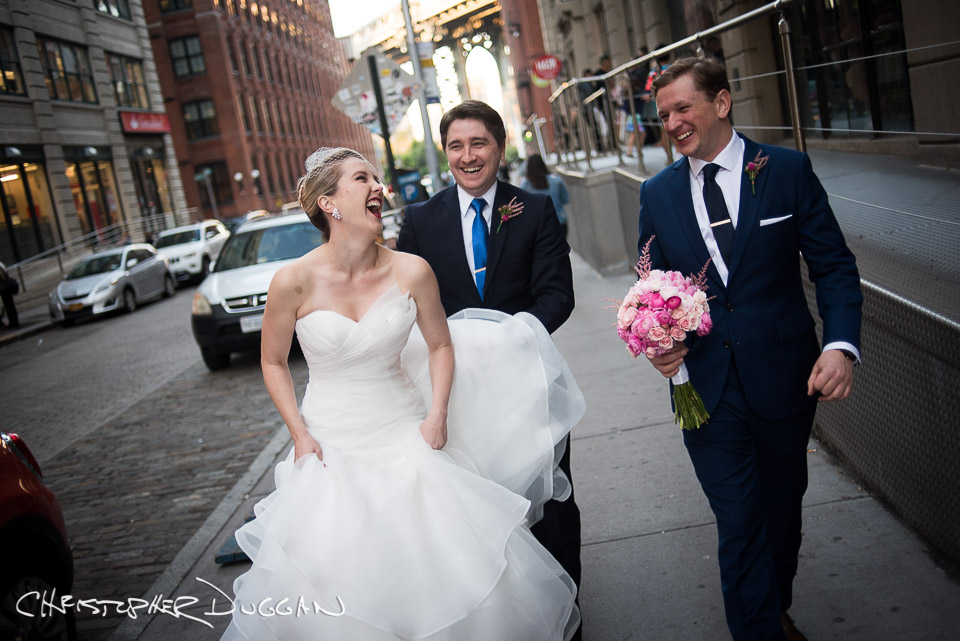 Wedding Insights From REAL Couples | Christopher Duggan Photography
I've been a wedding photographer for the past 15 years, and I've developed a lot of knowledge in how to make your wedding an easy-flowing day.
Last year, I wrote about having a tech-free wedding, how to prepare for your family portraits on your wedding day, why engagement sessions have an impact on your actual wedding day, and more.
Recently, I asked couples I've worked with to get their expert wedding insights, too.
I asked them to tell me one or two things (photography-related or otherwise) that helped them have an easy-flowing and relaxed wedding day. I wanted to know the wisdom that they gained while planning their special day.
This way, I can share expert insights from REAL couples. And they delivered some awesome feedback…
Our advice would be to make sure you and your significant other communicate.
Wedding planning is stressful enough without going into meetings where (potential) vendors are asking lots of questions that you may not have the answers to.
Figure out what your must, would-like, and can-do-without lists are prior to meetings. It'll make everything easier, and you won't have to worry about potentially arguing in front of strangers.
The first thing that comes to mind re: what helped me have a relaxed and easygoing time taking the wedding pictures is Christopher Duggan Photography.
When we took our wedding pictures, you were so supportive. After seemingly every picture that you took you said something like "wow," "that's great," or "beautiful" or another similar phrase/word. These words of encouragement gave me confidence (which I was sometimes lacking during those moments because I was worried about various things, like how I looked–when feeling comfortable and smiling is probably what really makes a good picture) which I'm sure in turn allowed for our gorgeous wedding pictures.
It's important for a couple on their wedding day to have a photographer like you–someone who has a calm demeanor and provides encouragement. Because feeling comfortable and confident probably shines through the pictures.
A few things that I think helped us relax and enjoy the day were…
Doing the first look. Given that there was a DELUGE just before the ceremony, we really were lucky to get those out of the way ahead of time. It allowed us and our family and wedding party all to relax and enjoy the cocktail hour to catch up with people. It was a life saver given that we had a compressed timeline unexpectedly…
The other thing that a mentor of mine told me to do was to take a few moments during the day, the ceremony, the photos, the reception and take mental pictures. It forces you to pause and take a moment to breathe and actually be present. I think that was a huge help for me at least.
Also, my family is notoriously weepy (hence handing out tissues to all). I was really nervous about crying down the aisle…my dad had a joke to tell me to keep us laughing the whole way.
Something is going to go wrong. Go in with that expectation – and it will likely be outside your control. The deluge that drove everyone into The Mount just before the ceremony ended up being something that was memorable, ridiculous, and helped guests get to know each other and bond under shared umbrellas. Just get people a glass of Prosecco and laugh it off. People look to the bride and groom to assess their reactions – if you can make light of it and just adjust, your guests will do the same.
I think the #1 thing that allowed my wedding to be easy going and stress free were my vendors.
I was lucky enough to choose extremely talented people that I know, and work with, and respect so much, and from there I was able to give up my worries because I knew I was in good hands. So that would be my biggest advice: choose vendors who you feel good about and then follow that up by trusting them to do what they do best.
But looking back on my wedding day the moments I remember the most vividly are… locking eyes with my soon-to-be husband as I walked down the aisle, taking a moment alone after the ceremony and watching all our friends and family make their way to cocktail hour and marveling at how far everyone traveled to be here with us, stepping into the reception room for the first time and seeing the lighting, buffet, and music set up our awesome co-workers/vendors/friends had created for us, and taking a group picture with all our awesome vendors at the end of the party!
Basically any chance I got to step back and reflect turned into the memories that I now cherish the most. So trust your team, and don't forget to take a breath and enjoy your best day ever!
The best choice we made was to do our private pictures in advance of the ceremony. Although we were running late and concerned that guests would begin to arrive, it was well worth the risk.
In doing this, we had the opportunity to enjoy the entire cocktail hour with guests. We chose to make the family portraits brief, and this also helped with a streamlined evening. It was important to us to get great photos with our family and wedding party, but we knew that having a few great pictures was all we needed to be satisfied… so the abbreviated formal portrait session was totally fine!
The other important thing I would add here is that we made sure we hired a photographer who would not only take great pictures, but we feel we paid for an experience as well.
So many guests mentioned how amazing you were; patient, fun, great with my nephew, etc. It helped us to enjoy our special day knowing that we were in good hands and would be directed when needed, but also left to wander when we wanted. You were almost completely invisible to us!
I guess I picked a great wife because we are on the same page with the synopsis.
So besides "ditto," I would only add one thought to the photographer selection: It's definitely a hindsight observation because we didn't consider it during the planning phase. However, after reviewing the gallery we were pleased to see that it was well-documented that our guests were having a great time. In the moment we knew we were having a great time, but even with a relatively small wedding we can only observe so much, plus I was slightly distracted by the bride.
The first time we looked through our gallery, I think it's natural to want to find that his and hers photo that is "your wedding picture". You can probably get that with most competent photographers. Upon the subsequent reviews of the gallery, it became obvious that the added value, frankly the justification for paying for a better photographer, was the capturing of the the spirit of a truly great night. I suspect that in order to do that it requires a sense of anticipation in addition to the technical skills.
From a marketing standpoint, Lori was initially drawn to your website because of the capturing of movement aspect from your work with dance. So while we understood candidly capturing movement would be an important attribute, I don't think we thought it all the way through to how important it would be to have captured our guests and that which we couldn't enjoy the night of but will be able to for the years to come.
The best thing we did in order to organize for our photos was filling out the forms that you sent us beforehand having us list the different groups and shots we wanted. Since you had the lists we didn't have to worry about missing any shots!
Also equally important is to hire a photographer that you trust and who knows what they are doing so that you get the photos that you didn't even know you wanted.
One thing that I learned from the wedding is you really want to talk to all of your guests but when you have a bigger wedding, it is close to impossible. And after the wedding after talking to some family members, the majority of them said they understood if they didn't get to personally talk to the bride and groom.
So my one thing of advice is just have fun, enjoy your wedding and don't feel obligated to talk to everyone. Because it really is close to impossible. And the family and friends who love you and are there to celebrate with you will completely understand. And like everyone says, enjoy the moment because it is over before you know it!
I have some pretty amazing clients. =)
If you're currently planning a wedding (or if you've already tied the knot!), what is a piece of advice that you would like to add to this list? Leave a comment!
---
Previous Post
Chelsea & Charlie | 26 Bridge Wedding in Brooklyn, NY
Next Post
Wedding Insights | Your Wedding Album is Your Family Treasure