MY WEDDING ALBUM IS ONE OF MY FAMILY'S MOST CHERISHED POSSESSIONS.
I love turning the pages seeing Nel and I smiling and and so wrapped in the love and support of all of our family and friends.  Nel looked so beautiful and when I look at the album that warm feeling washes over me again and again.
I love seeing my parents and all of my other family members around them.  When we look at the album, the photos stir memories of my mom. The way she laughed. The smile on her face and the tears she had in the corner of her eye.  
Holding my wedding album in my hands and showing it to my kids inspires me to tell stories about my mom and dad.
Reliving these memories and telling these stories is how I get to preserve our family legacy, honor my loved ones and pass the stories on to the next generation. 
​
YOUR WEDDING PHOTOS TAKE ON NEW MEANING AS THE YEARS GO BY.
Preserving them in an heirloom album allows these stories to stay within reach, within memory, forever. The album creates the space for your most favorite photos sing out.  The photos that have the most meaning for you get to be enjoyed instead of sitting in a computer file somewhere named file #0096.
For years, I thought that giving the digital files to my wedding clients was the complete package. "You have everything you need, and you can use them anyway you wish."
Now I realize I was completing my professional obligation my clients deserve from me.
As I talk with past clients, I hear that very few of them have done anything with their digital files. Mostly, they live in their computer, buried in a folder: file #0001, 0002, 0003…..
I WANT YOU TO EXPERIENCE THE FULL AND LASTING IMPACT I DO WHEN I LOOK AT MY PARENTS' WEDDING ALBUM, AND THAT MY CHILDREN DO WHEN THEY LOOK AT MINE…
I have no idea what my parents paid in 1964 for their wedding album, but it's a priceless possession for me and my family now. Making the album was probably a priority in their budget that they had to plan and save for and I'm so glad they did!
CDP SIGNATURE ALBUM
♡ Handmade in Italy by GraphiStudio with all archival materials
♡ Italian fine leather cover
♡ Deep matte touch HD professional paper rated to maintain quality for 100+ years
♡ Available in two sizes (12 x 12 or 10 x 10)
♡ Design consultation with me where we walk through the design of your album together and make changes to reflect your taste and budget
♡ The first draft of your album will be created within 4 weeks of your wedding
THE LEGACY COLLECTION
Includes:
♡ Your Wedding Day
Full wedding day 8-hours of photography by Christopher
2nd professional CDP photographer
5 "wow" photos sent to you within 48 hours
All photos lightly retouched and professionally prepared
All photos delivered via beautiful gallery within 4 weeks of your wedding
♡ Engagement Session (Local NYC)
A fun and relaxed photo session capturing this sweet time in your relationship
Keepsake Highlight Album (20 pages, 20 photos; 8 x 12 with linen or photo cover)
All photos delivered digitally via beautiful online gallery within 3 weeks
♡ 50 Page CDP Signature Album
♡ 2 Encore Albums for Family
This is a duplicate layout/photo choice of your CDP Signature Album (8×8 hardcover)
THE HERITAGE COLLECTION
Includes:
♡ Your Wedding Day
Full wedding day 8-hours of photography by Christopher
2nd professional CDP photographer
5 "wow" photos sent to you within 48 hours
All photos lightly retouched and professionally prepared
All photos delivered via beautiful gallery within 4 weeks of your wedding
♡ 20 Page Signature CDP Album
"Ken and I LOOOOOOVE the album. I look at it at least once a day! Everyone that comes over does too (and NOT because I make them; they ask to see it!). This past weekend my sister in law, brother in law, and niece (who is 17 months old) were visiting. My niece Sadie just kept staring at it and demanding to see it again. It was adorable. It's already become so precious to me and I can't wait to share it with our loved ones and future children (and yes, grandchildren!) as the years go by. Our wedding day really and truly was the happiest, most joyful day of our lives and every time I look at our album I'm transported back to it. "
— Diana, Bride
why invest in the process with us?
You won't make your album yourselves.
Most online albums designs that get started (approximately 80% of them) never get finished or printed or enjoyed.
It's no wonder, really. I will make for you hundreds and hundreds of wedding photos, and you'll love every one of them. It's just too hard to make decisions about what to include in your album. When do you and your partner have time in your busy lives to sit down and go through every single photo to pick your most favorite?
It's much easier to leave that job to us – curating the most heartfelt images of the day in a first draft of your album, so you don't have to start from a blank canvas.
It's the only money spent on your wedding that truly is an investment which increases in value over time.
I don't know what my parents invested in their wedding album in 1964, but I would pay 100x that now.
According to WeddingWire, "On average, couples underestimate their wedding ceremony and reception budget by nearly 45%. While this may come as a surprise, 1 in 3 couples acknowledge that their initial budget is not always the most realistic and more of a starting-point." A wedding album might not even be on your list yet, because you're still thinking about catering and cake and extra seats at the venue…
But a wedding album is arguably the most important investment you'll make in the day – one of the only wedding-related purchases you make that becomes more valuable to you and your family over time.
Your children and grandchildren will not experience your wedding.  But, they can experience your wedding album and share those experiences with you.
There are some creative ways to budget for a wedding album or even add it to your registry. Why not make a Zola cash fund for your album?
Cost is a reflection of quality.
You can find a service online that produces wedding albums at a lower cost. No question.
But these albums are a much lower quality product than what you can make with us. They're much more likely to fall apart at the binding or lose color quality over time. The color and paper quality aren't as crisp and consistent. The cover less elegant.
Online printers are geared towards the consumer printing with low quality files.  So they will run your photos through an algorithm to "enhance" the image, but this only flattens and changes the high quality image files that I create for you. My album maker works with each image file to pull the most out of each photo for the best photo experience.
We print our wedding albums with Italian-maker GraphiStudio, which combines contemporary digital printing techniques with handmade-in-Italy binding, creating an album that lasts 100 years or more.
Are you going to spend hundreds of dollars on your wedding cake and then serve it on paper plates?
I chose the cheapest option for my own wedding album – the cheap cover, the cheap pages, the photos were not color corrected. (Ugh!)  I love the album, but now it's falling apart, and I totally regret it.
You won't have the same experience scrolling through your photos on your phone or computer.
How often will you look back at that folder of photos, on your computer? Will you celebrate your anniversary by sitting in front of the computer, looking at  File #1, File #2, File #3…?
I thought so… 
The web is accessible, but the album alive, living in your home. Holding an album in your hand is a shared experience. The memories become tangible. The experience is communal. And you make stronger and more meaningful connections as you tell stories to the person you're looking at it with.
Your wedding album is a piece of art, living in your home. Art inspires. It's a part of your experience every day.
Your children will love holding the album in their hands knowing that it was held in your hands and they will pass it to their children next.
Let's get started on your family treasure.
Wedding Albums
Our custom wedding album process takes the heartache out of curating your favorite photos and ensures you'll have an heirloom that lasts generations.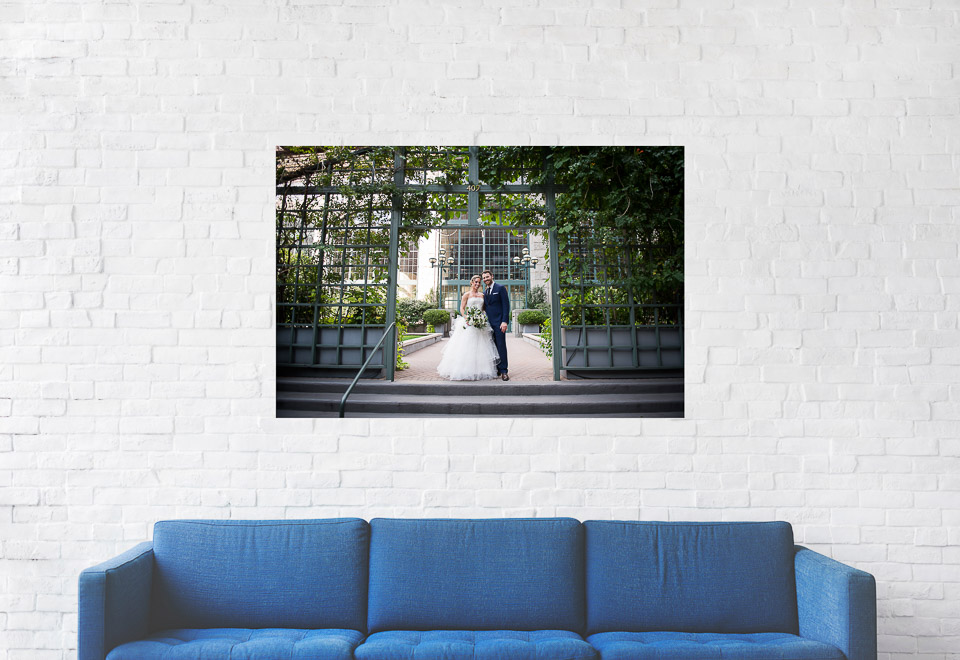 Art Prints
Why not decorate your home with some of your favorite family memories? We can create canvas or framed art prints at any size.
Thank you Cards
Many of our clients print custom thank you notecards as soon as a week after the wedding so they can immediately start sharing their gratitude with their guests.
80% of consumer album designs that are started online never get finished.
This statistic just kills me.
When you work with us to create a custom album, we make your job as easy as possible. We design the first draft to include what we believe are the most touching and important images that tell the story of your day. The first round of curating is always the hardest – that's why we take care of it for you.
We'll then plan a design session with you. We'll walk through the next round together and discuss how to further whittle it down.
And we'll keep you on a schedule so it's in your hands in as little as 6 months after the wedding.
Don't be part of that 80%. Let's talk about it.